Ustreme has launched its new-look channel, in preparation to go on TV very, very soon!
Following months of blood, sweat, tears (and tantrums) our brand spanking new platform at ustreme.com is now live – ready for our TV debut – which is much simpler to navigate so you can find and watch your favourite shows easier.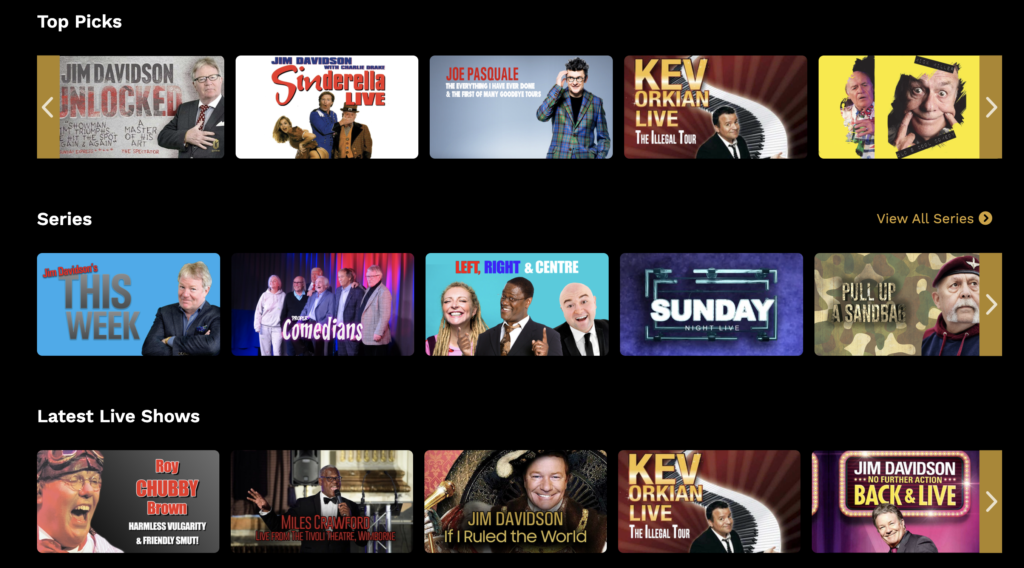 All Ustreme members have to move over to the new platform, and resubmit their details to maintain access to Ustreme, as we await our Apps being given final approval by the TV bods.
Ustreme founder, Jim Davidson OBE, said: "As you know, we have been working hard to get your favourite streaming channel on to television via an App on your smart TVs.
"To do this, we need to move everyone over to our brand spanking new Ustreme platform, which means you must re-register to continue access.
"All current members have received emails with links and instructions. There was a slight technical glitch with payment details when the new platform first went live but our partners in America sorted that pretty sharpish so we're all up and running ready and waiting to get on your TVs now."
Here's what to do if you're a Ustreme member…
If you are a monthly subscriber, go to ustreme.com, click "register" or "subscribe" and enter your details to rejoin. Your old sign-in details will no longer work, but as a treat for this bit of hassle we'll give you a month for £1.
Annual members have also been sent a special one-time code as well as a link to the platform. Enter this when you resubmit your details so your plan continues as if nothing has happened without being charged again.
Jim added: "As soon as you rejoin, the brand new platform will be there ready for you…waiting for the TV manufacturers to give the thumbs-up for our TV Apps, which will be ready to download in days.
"As soon as our Apps are ready you'll be able to watch us everywhere…on Apple TVs and mobiles, Firesticks and Amazon, Roku devices, Android phones and TVs, Panasonic, Sharp, Sony, Phillips, LG & Samsung TVs. The lot! We'll notify you as soon as each App is ready to download and let you know exactly what to do.
"If you've got any questions or queries, we've got our team of techy nerds here to answer them for you. Enjoy our "new-stream" from Ustreme…and see you on the telly very soon!
"We're doing all of this for you, our wonderful members. Thank you so much for continuing to support us."
To celebrate this milestone for Ustreme, all new monthly members will also get their first month for £1 and then £4.79 per month after that.
Annual membership is £47.99 – so you get two months FREE per year on us.
Sign up at ustreme.com