Showbiz veteran Jess Conrad OBE has spoken about growing up during the war, 'sha**ing for England' and breaking hearts with his stunning looks, having the 'world's worst record' and enjoying a successful stage and screen career spanning seven decades.
The 86-year-old sat down with interviewer Alex Belfield to tell all about his fascinating life and 70 years in showbiz as part of Ustreme's Face To Face series.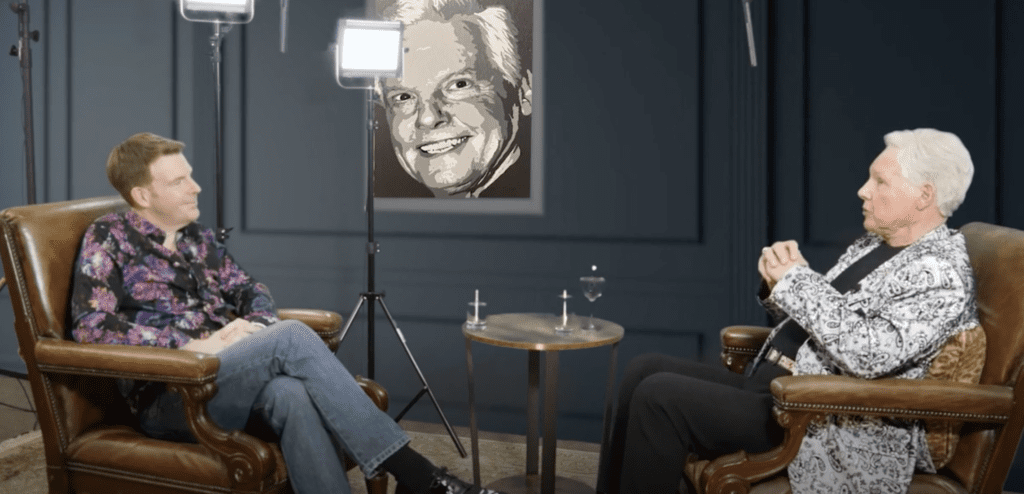 Born in 1936, Jess's younger years were spent with the world at war. He recalls regular visits to the cinema, where he would 'bunk in' through mens' toilet windows to avoid paying to watch the latest classics.
"I loved the cinema. It was my life," he says. "I remember coming out of the cinema and there would be a bus full of dead people on the street. I was so used to dead bodies all over the place as a young boy.
"You could hear the bombs and things going off but then I'd go home and tell my mum how wonderful Errol Flynn had been in the film."
During the interview, he also recalled the young girl who lived next door to his grandma – where he'd been sent by his ambulance driving mum to live during the war – being killed in an explosion and finding her arm among the debris of her destroyed home.
"Seeing that is something I will never ever forget," he says. "But I went in and said to my grandad, 'the chickens have done a bunk' meaning they were all dead. But I didn't mention the girl.
"The war years were horrendous but you saw them through a kids' eyes. I was sad I'd lost my friend next door but it was part and parcel of what the war was."
Jess, with his has 'Diddly-Dum-Scumsy-Scumsy' catchphrase, has been no stranger to attention from men and women all of his life due to his striking good looks – of which he still remains proud.
"I think it was my mother's saying from such an early age that 'you are going to break hearts'. It was almost in my DNA that I would break hearts.
"I was the best looking kid in the school. I was the best fighter. Everyone wanted to be with Jess. I've always had my own following.
"There was a time I was shagging for England.
"Women do still fall for me. But that's mainly because they are too old to stand up."
Despite his confirmed status as a heartthrob, Jess last year celebrated his 58th anniversary with wife Renee, the mother of their two children, and he joked: "A record in showbusiness. Mind you, it's easy when you're both in love with the same man."
Jess, who was appointed an OBE in 2011 for charitable services and famously appeared in Jim Davidson's critically-acclaimed Sinderella pantomime with a hilarious turn as Prince Charming, also laughed about his single This Pullover being voted the 'world's worst record' and an unforgettable trip to America to promote the film Konga with film star Tab Hunter when they visited a club called The Hole In The Wall.
"These bottoms are coming through the wall, and Tab Hunter says, 'oh shit. Rock's here'," says Jess.
"And I said, 'Rock who?'. He said, [film legend] 'Rock Hudson. I can tell by the blemish on his cheek'."
Looking back on his incredible 70-year career in showbusiness, he says: "I've been around an awful long time and of course it's been quite difficult because I've had two careers – acting and singing. And I was silly enough to think that if Frank Sinatra could do it, then so could I."
*The full interview with Jess Conrad OBE will be streamed exclusively on Ustreme.com from Sunday, May 23.