A female community hub founder from Brighton is hoping to carve out a new career in comedy after impressing Jim Davidson OBE to make it through to the next round of his brand-new Laughter Class series.
And Paula Woolven says if people are offended that she's working with the sometimes controversial comedian, then tough!
Her favourite quote is from actor and comedian Stephen Fry…"It's now very common to hear people say, 'I'm rather offended by that.' As if that gives them certain rights. It's actually nothing more…than a whine. 'I find that offensive.' It has no meaning; it has no purpose; it has no reason to be respected as a phrase. 'I am offended by that.' Well, so fucking what."
Jim's Ustreme streaming channel has launched a search for future comedy stars, with hopefuls being given the guidance and tools to succeed in the industry just like he did after his big break on talent contest New Faces.
Dozens of budding comedians who fancy themselves as the next big thing put their raw stand-up skills to the test in nerve-wracking auditions for the series – and Paula was among the nine successful candidates to secure a place on the course.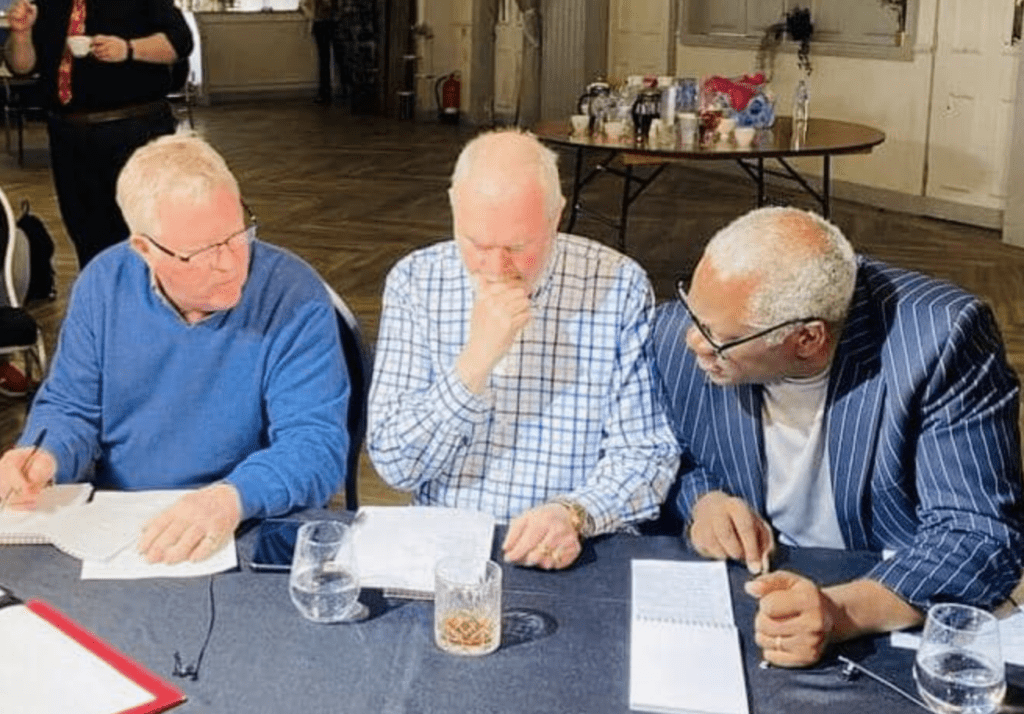 Paula, who is founder of a social enterprise called Havens Community Hub near Brighton, said: "I'm a bit gobby and with a heavy work-load, comedy is my escape.
"I've always been a big fan of stand up in particular, and dabbled a couple of times, but never really believed in myself enough to do it until I met some local comedians who have been really encouraging and supportive."
It was when the country was coming out of lockdown in 2021, and Paula was filming an episode of culinary competition Come Dine With Me – on which she came last – that she met fellow contestants, local professional comedians Rob and Hassan.
Paula – whose community hub rescues and redistributes supermarket food, has a volunteer driver scheme to get people to hospital and runs activity clubs for older people with complex needs such as dementia or mobility issues – says: "We were sitting out in the Green Room talking about our pet hates and they said theirs was when people told them they could perform comedy because it looks easy.
"It really riles them. So I looked them dead in the eye and said 'I could do that'.
"So they told me to do it then and I booked myself in an open mic spot. I did 10 minutes, just really talking about the Come Dine With Me experience.
"I really enjoyed it. I didn't have a style or anything, I was just telling stories.
"For my third gig I found an old Halloween squirrel costume, got on the bus dressed in full squirrel costume with no material on squirrels and just went with it. I managed 7 minutes of nut jokes with only 7 people in audience – two who didn't speak English, three on a stag do and the promoters listening to a woman dressed as a squirrel talking about menopause.
"But there is a lot of work involved in writing new material and so I stopped doing it and the longer I left it the more I lost my confidence, so I haven't done anything since summer last year.
"I still went and watched local gigs though and got to know some of the comics who said I should try it again and so when the Laughter Class thing came up I thought I'd give it a go."
Paula was one of dozens of hopefuls who auditioned in front of Jim, award-winning compere and comedian Miles Crawford and national entertainment journalist Garry Bushell. The production was hosted by comedian and professional comedy teacher, Nik Coppin.
Nine comedians, including Paula, have now been selected to attend "Laughter Class", where they will be put through their paces and trained in all genres of comedy from stand-up to script writing, performing in a double act, panto performance and mic technique by a host of industry experts.
Following the intensive five-day course, the comedians will then take part in a live stand-up show, to be judged by a live panel and audience.
The winner will receive a prize including supporting Jim Davidson on one of his shows, a contract with a comedy club and a special of their material to be filmed and streamed on Ustreme.
Paula said: "That was the first time I've stood in front of people for so long. Jim said he had to put me through because he was scared of me!
"I'm a big girl and I've got concrete skin. I'm quite happy to hear criticism and take it on board, but I was so pleased to be selected to go through.
"I so admire female comics. They said on the panel that females have a harder time in comedy to be recognised. But I'm lucky there's a big female comic scene in Brighton with lots of mentors and everyone helping each other."
Paula actually first met Jim Davidson 21 years ago when she appeared as a contestant on his Saturday night gameshow Big Break, while she was eight months pregnant with her third child Danny.
The 51-year-old, who is married to Laurence and is also mum to Rebecca 27, Kyle 24 and Danny 21 as well as grandma to Reuben 5 and Oakley, 6 months, said: "I know Nik (Coppin) from doing some volunteering with the Hub. He is a man of colour, and I've seen him get challenged by other comedians when he mentions working with Jim. When I was growing up and saw Jim on Saturday TV, he was the number one comic in the country and leading gameshow host and I had a great time on Big Break – even though I came second! I'm a firm believer in frank discussions and I think 'cancel culture' can be a dangerous thing, shutting down communication and honest conversations"
"I'm really excited about being involved in Laughter Class. I've got the stories, I'm a storyteller not a joke teller so I really want to learn where the punch lines go into the story.
"This is purely enjoyment for me. I used to be a singer before I got too old and past it, and once I stopped singing there wasn't another outlet. I still have this desire to perform so this is something I want to take seriously so I can get back out there."
The entire Laughter Class series is being filmed to be streamed exclusively on Ustreme later in the year.