Comedy legend Jim Davidson knows more than anyone that you can't please all of the people all of the time.
He also knows that the masses are getting sick of "woke nonsense being rammed down their throats" every day – and just want to laugh again like they used to.
That's why he's confident his own niche streaming channel, Ustreme, will continue growing its loyal membership, even while the multi-billion pound Netflix announces a mass exodus of almost 1 million subscribers.
For him, Netflix is tantamount to a restaurant trying to cater for every possible diner, offering "thousands" of options on the menu.
"There may be something on there for you but you can't help think that half of it's been sat in the fridge for the past six months," he says. "What do you go for?
"The best restaurants have a small selection of specials they do well. They know what their customers want and that's what they give them.
"That's what we do at our channel."
As the founder of Ustreme, he's giving his insight into the industry after Netflix revealed it had lost 970,000 subscribers in the last quarter.
The cost of living crisis is rightly shouldering some of the blame – but Jim firmly believes Netflix's desperation to "feed the monster" with never-ending reams of new content aimed at "everyone", as well as its lurch into the world of woke by commissioning new programmes that appease the PC brigade, also play a part in the huge numbers switching off their subscriptions.
"I remember living in Dubai, a prisoner if you like 33 floors up, and watching that series 24 with Keifer Sutherland," he says. "I binged-watched that whole first series actually in 24 hours.
"It eats up tons and tons of material. Netflix bosses are sitting there thinking, 'sh*t…we need more stuff'."
Netflix was initially launched as an unsuccessful movie-rentals-by-post service, which went on to eventually defeat Blockbuster and evolve into a cultural force that fundamentally changed the way we consume media.
"People's viewing habits were changing," says Jim.
"Streaming was the future – and so off Netflix went at a million miles an hour.
"What they didn't realise at the time is that they were feeding a monster.
"They are constantly investing heavily into original content to be made to keep up with the huge demand but it is never quite enough."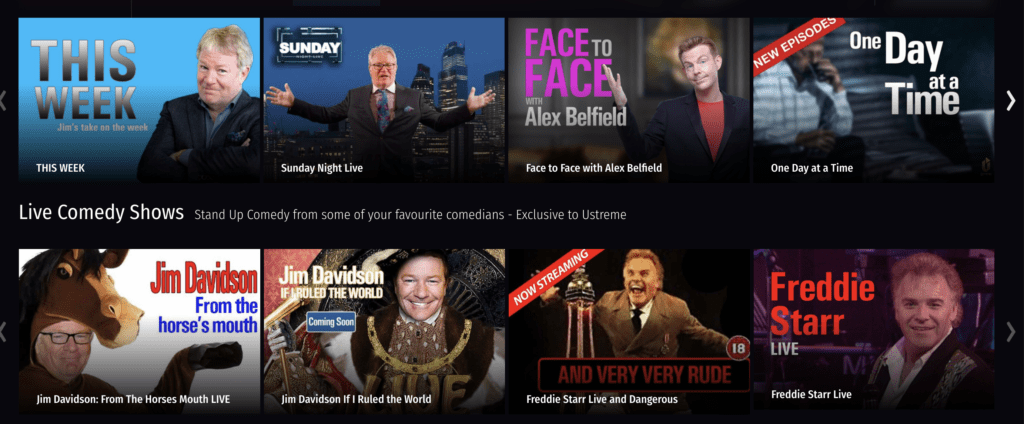 Jim and film director/documentary maker business partner Robert Garofalo do things differently at Ustreme.
"You've got Netflix showing a million different shows aimed at everyone but we don't feed the monster like they do because ours only wants one type of food.
"They want comedy. Comedy, comedy, comedy – and that's what we give them.
"It's very much a premise of trains, planes and automobiles. People who are interested in that aren't going to want to stream programmes on fishing or golf."
Ustreme co-director Robert, who also produces special interest documentaries for a number of paid-for channels, says: "I originally based my own business model on a channel I came across called the Caravan Channel. You'd think who would watch boring programmes on caravans? But it has 15,000 members who all have caravans so all of the programmes, reviews and adverts are targeted at them.
"They're only interested in appealing to those people, not the millions of others who don't have any interest in that.
"Ustreme was really based on that model. Jim is an ideal candidate because he has a fixed fan base. When he tours, around 60,000 people will pay to see him each year.
"That is our core audience."
Jim and Robert have worked together for many years, with Robert directing and editing the comedian's stand-up DVDs for Universal Pictures.
Jim says: "I actually used to go in to shops and rearrange their shelves to make my DVDs stand out, which was a lesson I learnt from the late Bill Tennant, the boss at Universal Pictures.
"He was at the forefront of getting comedy DVDs into shops and at the time there was a huge market for it.
"He was behind the creation of comedy charts."
Robert adds: "Bill had been sent over by a company that had bought Virgin Video to look at what was selling. He saw they'd bought a Simple Minds Concert for £800,000 which nobody was buying. Then he found out a Billy Connolly DVD that had cost them £60,000 but had sold half a million copies and he said, 'let's get more of these in then'.
"He signed up every comedian he could and then sent me out to film them to make the DVDs.
"He knew what would sell and got them on the shelves – the likes of Jim, Jethro, Billy Connolly.
"DVDs died as quickly as they came, then there was downloads and then streaming.
"But we still look at it in the same way as Bill did. What would be stocked in Tesco? They'd have stocked 20 DVDs that sold well rather than 200 titles that didn't – and that's what we do with Ustreme."
All eyes are currently on the world of streaming following the announcement of Netflix's figures.
Overall, between January and March 2022, 1.4m people signed up for streaming services, while 1.5m people cancelled their subscriptions.
Of those new sign-ups, 45% were to Amazon, 10% to Disney, 10% to Britbox and 4% Netflix – with 60% of the 1.5m cancellations to the latter.
But Robert says the reality isn't quite as bleak.
"It may seem like streaming – and Netflix in particular – has taken a bit of a dive but it's certainly not dying.
"People have got more choice these days and streaming subscriptions will be the first thing to get cancelled when bills come in. Those people tend to come back though in a couple of months.
"Netflix spend a fortune on content. Last year they spent £13billion and have just paid £160m for The Gray Man, which is their biggest film to date.
"They've also taken over the entire Shepperton Studios and are building another huge complex with another six or so stages so streaming is certainly not dead in the water yet."
One issue Netflix has been widely criticised for is its increasing "woke" content, such as He's Expecting, which depicts a man who becomes pregnant.
Following a consumer backlash, and after stocks nosedived from nearly $700 to as low as $166 over the course of six months, the company rushed to send a 'culture memo' telling staff if they were offended by the content they worked on, perhaps Netflix was not the place for them.
Jim says: "People are now saying, 'Stop ramming this woke nonsense down my throat'. They've all had enough.
"There's a few of us leading the pushback, like Ustreme and GB News, because people are sick of it. They're sick of being told what they should think and what they can laugh at.
"You put the woke in and you take the funny out."
Ustreme was launched during the Covid pandemic when Jim was unable to perform live stand-up shows due to national restrictions. He initially took to YouTube to give his unique, outrageous and hilarious views on the world but had no idea how audiences would respond.
So when the videos started generating substantial interest with thousands of people tuning in, he knew he was on to a winner – and the Ustreme streaming platform was launched.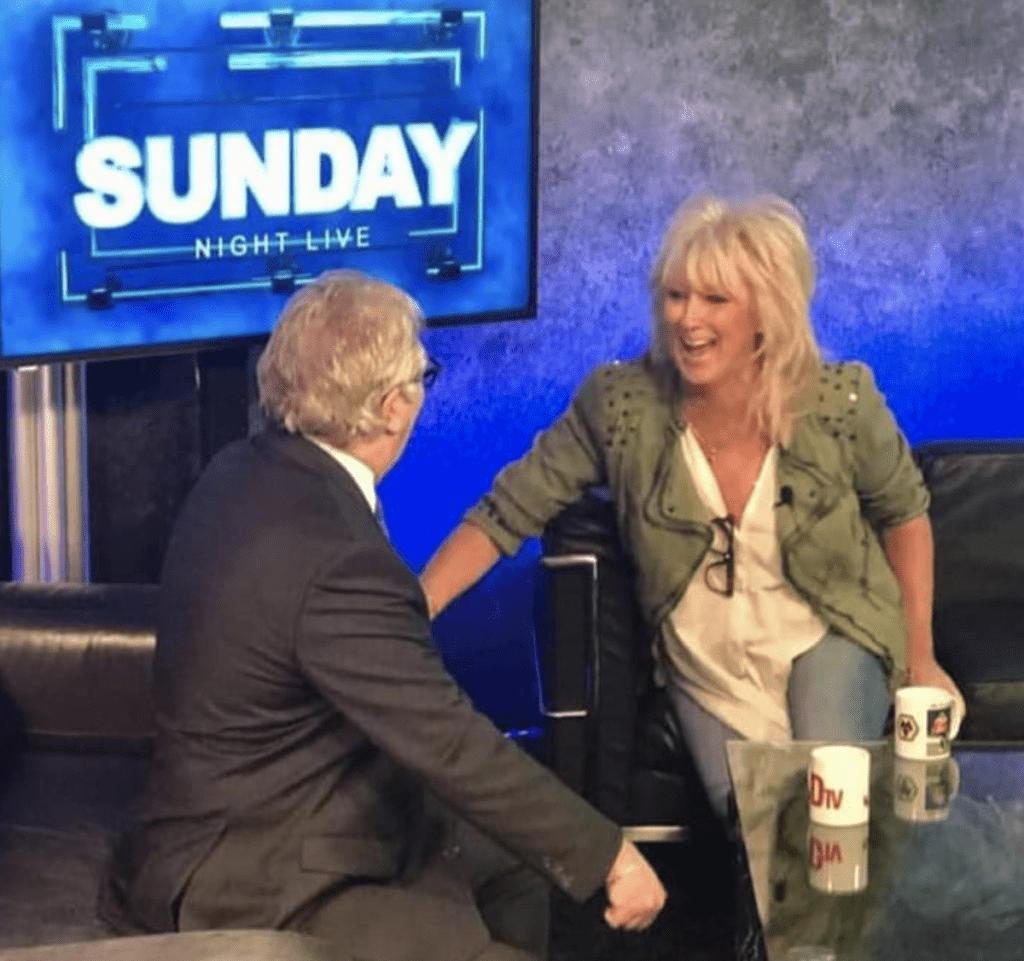 The channel features a host of exclusive shows, including the critically-acclaimed Left, Right & Centre comedy panel show which was filmed in front of live audiences; in-depth celebrity interviews with guests including Frank Bruno MBE, Right Said Fred and SAS hero Mark 'Billy' Billingham MBE; new features and light entertainment programmes – along with exclusive stand-up material from a host of comedy legends, including Jim himself, Jethro and Freddie Starr. The channel also recently purchased Jim's entire Universal back catalogue, including his much-loved "filthy pantos" Sinderella – which has sold more than 1m DVD copies – and Boobs in The Wood.
Jim and Robert say that, despite traditionally high "churn rates" of subscribers for larger streaming channels, Ustreme retains a loyal membership base and continues to attract more and more people who want to laugh like they used to.
Jim adds: "The content of any channel reflects on the personality of the people who run and own the station.
"We all think this woke stuff is ridiculous and the world, frankly, is ridiculous at the moment so we need to have a laugh.
"We want to cut through the bullsh*t and not take life too seriously. Even our cooking programmes are fun.
"We have a dedicated department and regular meetings to discuss what our members want. We have some timeless content on there so people can sit down and watch whenever they want as well as some scheduled programmes every Tuesday, Thursday and Sunday that are more topical.
"We are niche, we know our audience and we are not going to alter or adapt what we do to please everyone.
"We look for new subscribers who like a real laugh at the same things.
"We know we won't be everyone's cup of tea – so those people can go and watch something else."
Robert adds: "We've got a loyalty among our members. We can give them proper comedy; comedy that takes you back to the days when we really laughed. We give them what they can't get anywhere else."